July 17th, 2018
This week has been a doozy for news in America, and it's only Tuesday. Trump has travelled the world, cow-towed to Putin, and managed to do unfathomable damage to our world standing… oh, yes, Germany now lists us as adversarial thanks to recent comments by Trump. AND, Jimmy Kimmel once again reinforced the inadequacy of the American educational system.
Understanding that the bit is edited to be a shocking and humorous as possible, it is still hard to believe that people don't know the difference between a continent and country – many responses were to point at Africa when asked to locate/name a country on the map. Even more disturbing is that when given the option to locate ANY country on the map, they don't even start with the United States. Thankfully, we are relieved when a young boy-child seems to name all the countries in North and South America. The future is in good hands… can the rest of us just leave already?
But, the problem is I can't even be shocked by the revelation of ignorance in this video clip. The news for the past couple of years has etched this reality into the nerve pathways of my brain. A good portion of Americans don't know anything about the rest of the world, let alone where the rest of the world is located. They also don't know much beyond their own experiences. The educational system has let a lot of people pass through its grasp without actually teaching them to see beyond what is right in front of their own faces.
Of course, the media is to blame as well. It perpetuates what people want to see, and it seems as though that vision is driven by the least curious among us. Once again we fall victim to the influence of the weakest link instead of being lofted by the wisdom of the crowd.
How we change this pattern is something the brightest minds are trying to figure out. For the time being we don't have an answer that involves systemic change. For now, it is up to each of us to be responsible for a few things:
Ourselves – be curious, and feed that craving for information. Don't take things at face-value. Do your own research.
Our families – inspire curiosity in the next generation.
Our communities – conversation doesn't have to be argumentation. Learn to listen, and practice compassionate communication to build stronger, more resilient communities. Kindness really is essential in the present moment.
Our world – Vote. It really is the chance you have to voice your preferences in a way that will count. Local elections are essential to a functioning democracy. Forget about "trickle-down" economics, politics is all about trickling up. The grass has strong roots, and it will grow.
Not too hard, right?
Together we can turn the weakest links to wisdom.
Filed under
Esoterica, Reads and Watches, Science & Politics
|
Comment (0)
July 2nd, 2018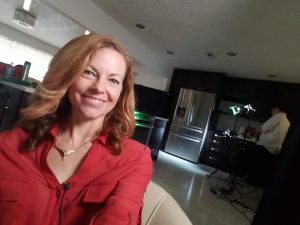 I looked at the date of my last blog posting… just about 6 years ago, in fact… and am amazed at how things have progressed since then.
I obviously stopped blogging, but in the past 6 years I have managed to continue broadcasting TWIS, written articles for some great science magazines, appeared on cable tv science programming, done bits for what is now called Seeker on the Discovery Digital Platform, been hosting a second podcast (the Stem Cell podcast), become part of an amazing science communication organization called ScienceTalk, started to build a science media production company called Broader Impacts Productions, moved to Portland, and raised my little NanoKai into a wonderful 7-year old boy.
During that time, I also struggled off and on with depression, which certainly added a challenge to life. But, I discovered ways to deal with the lows, and try to really appreciate the good days. It doesn't always work out the way I envision, but I am getting better and better at rolling with the unpredictability of my moods.
More recently, however, I have been feeling like some part of myself that was lost somewhere in the past is returning. Hence, this post, and my plan to get back into blogging… writing on a regular basis. Words stream through my mind that in the past few years have simply been lost to consciousness, slipping through the neuronal fingers of my mind. Now, I'm grabbing them with intention – some to be placed here for posterity.
I don't know how many of these words will hit the pages of this blog. There are so many things I want to say; books I want to write. It might take me a while to hit my stride again, but I look forward to every moment of trying. Thank you for joining me in this venture.
Write on…
Filed under
Esoterica
|
Comment (1)